February 26th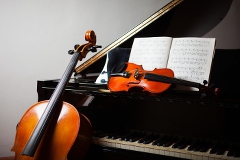 Since 1959, the HSO has welcomed young artists from across the state as soloists, and we are proud to continue this wonderful tradition. This year, we feature a high school soloist. Additionally, the program will include Mozart's Symphony No. 40 in G minor (it's a bird, it's a plane, it's a MOZART!) and Tchaikovsky's Serenade for Strings.
*Online ticket sales are closed, but plenty of tickets are available at the box office on Sunday starting at 2pm.*
We'll see you there!